Welcome to Decatur County, Georgia
Located in Southwest Georgia, Decatur County is home to about 28,000 citizens and is within easy driving distance of four major cities: Dothan, Alabama; Albany and Thomasville, Georgia; and the Capital of Florida, Tallahassee. Decatur County is governed by an elected six-member Board of Commissioners.  Decatur County has an abundance of recreational activities, indoors and outdoors, for all ages. There is plenty to do in Bainbridge and Decatur County to keep you and your family busy throughout the year. Whether you like attending festivals, enjoying nature, enjoying the arts, listening to live music, playing sports, or outdoor activities, there is enough to fill up just about every weekend of the year.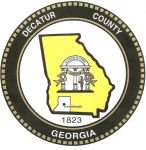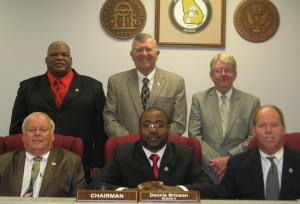 Pictured is the 2015 Board of Commissioners, from left, front row, Pete Stephens, Vice-Chairman, Dennis Brinson, Chairman and Rusty Davis; second row, George Anderson, Russell Smith, and Dr. Butch Mosely.
Commissioners' Contact Information
Administrative Staff Contact Information
Decatur County Commission map-2012
Decatur County Board of Commissioners
P.O. Box 726
Bainbridge, GA  39818
Other Municipalities in Decatur County Include:
Attapulgus – Mayor Johnny Medley: (229) 465-3322
Brinson – Mayor James Earp : (229) 248-1752
Climax – Mayor Charles Hadsock: (229) 246-0467